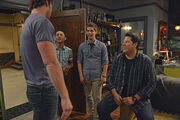 Ray Wheeler
(Portrayed by
Greg Grunberg
) is
Ben
and
Danny
's father. He is divorced from
Bonnie
and does not get along with her. He is the Grandpa of Emma. He tells Ben he is gay in season 1 episode 10 Anal Cats. Despite having come out as gay in Season 1, it is known that Ray has avoided admitting his true sexuality all throughout the childhood of Danny and Ben.
Relationships
Bonnie
In the beginning of the series it is revealed that Bonnie despises Ray, and the feeling is mutual. In the end of season 1 Ray comes to visit with news that he is gay, but it does not come out until the whole family ( including Riley, Danny, and Tucker) shoot their Christmas card. The whole gang at first think it's Ben who is gay but then Ray finally makes the announcement that he is gay. Bonnie then says that she knew all along that nothing was her fault, she then congratulates herself and the whole gang is fine with it. Ray then comes back in Season 2 that he and Steve are on the rocks because Steve asked Ray to marry him. Bonnie and Ray then pretend to be together and married for Aunt Betty, who supposedly gives the Wheelers a lot of money. Aunt Betty thinks they are still together and married. Aunt Betty then makes the conclusion that Bonnie and Ray are not really married so she makes them get married in a church, but it doesn't happen. Bonnie then goes back to being single and Ray gets back together with Steve.
Steve
Steve is Rays husband.
Trivia
He is called Danny Sr. in early Season 1.
He is gay and his boyfriend, who is now his husband, is Steve
Announced he was gay on the Christmas Card Photo Shoot
Him and Danny always pretend to box before they give each other a hug